Laneige Collagen Drink [30mL x 10]
Collagen drink that helps to brighten & moisturise skin
Formulated with low molecular weight fish collagen that is easily absorbable
Rich antioxidants from extracts of red orange and pomegranate
Contains just 25 Kcal
Delicious fruity taste with refreshing touch of citrus
Out of stock
LANEIGE COLLAGEN DRINK  
Firmer and Brighter, day by day
Easily Absorbed Collagen Drink for Brightened & Moist Skin
What it contains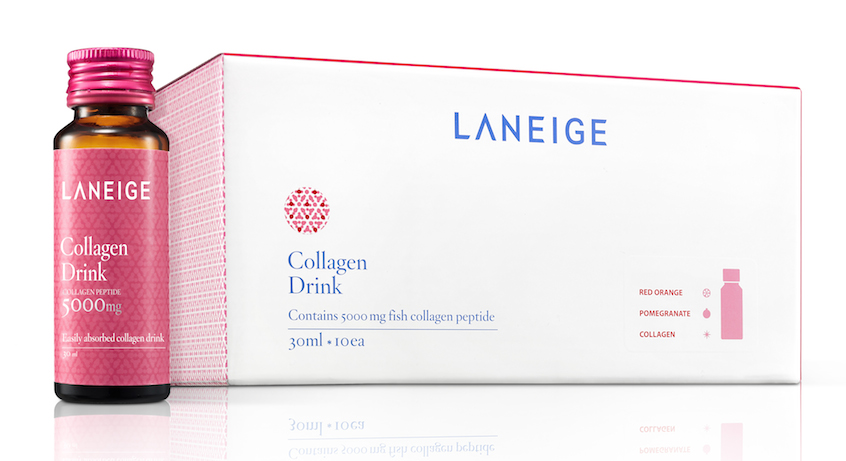 Each box contains 10 bottles of Collagen Drink 30ml
Each bottle contains 5,000mg (5g) of collagen peptide – that's the amount of collagen that is metabolised by the body in a day, and therefore how much that needs to be replenished.
3-free formula
Does not contain artificial coloring, preservatives nor sugar
Test Conducted
Hear what users say:
Recommended by Bong Qu Qiu

"Usually my skin will be dehydrated even when I put my usual moisturiser, so I will usually prep my skin with facial mask or sleeping mask the night before. Now with the intake of LANEIGE Collagen Drink at night, my facial skin has become hydrated from within. – Enabalista"
After almost two months of consumption,  I went for a skin diagnosis with my facial clinic and my skin's hydration and elasticity has improved a lot, and don't forget providing suppleness to the skin is one key attribute from collagen drinks. Previously, I have a lot of blemish marks on my skin, especially the forehead and I can tell they heal up very fast this time round. – chiamhuiy
Surprisingly after 1.5 months of diligent consumption, I do see actual improvements to my skin, namely improved radiance and skin elasticity as my skin felt firmer and brighter! Keeping my skincare routine constant so as not to affect the results, I felt that my skin visibly became more glowy (not oily) which made me look healthier. I say my skin became more radiant because I can really notice that it doesn't look as dull and tired as before, especially with no makeup on! – Roanna T.

Why we need Collagen
Benefits of Collagen

Collagen makes up 30 percent of total protein in the human body. The major constituent of connective tissues, collagen supports healthy skin, hair and nails, protects the joints and mucus membranes, and ensures strong, healthy bones.
Collagen is also needed for supple, elastic skin and the renewal of skin cells. However, the amount of collagen in the body decreases drastically after the age of 25. Collagen also becomes fragmented with age, and its loss is gives rise to problems such as melasma, hair loss, arthritis, and more.
Skin Aging & loss of Collagen
LANEIGE's collagen peptide is synthesized from tilapia fish, which has a lower molecular weight than other sources. This is meant to enhance absorption and synthesis. While you can technically eat tilapia regularly for skin benefits, most of us are unlikely to eat a whole fish daily.
1 bottle of Collagen Drink contains the collagen peptide found in an entire fish
What is fish collagen
  Q & A
How to use
– Consume a bottle daily, preferably 1-2 hours before bedtime
---